Create a Job Opening
Expand Create Other


Click Create Job Opening


Enter a Title


Select the appropriate Microsite


Complete the remaining Basic Information fields if desired
Select the Job Information tab


Select the appropriate Job Status


Complete the remaining Job Information fields if desired
Add additional content if necessary
Click Save
Edit a Job Opening
Navigate to the page
Click Edit
Make the necessary edits
Click Save
Copy a Job Opening
Navigate to the desired page
Click Clone
Edit the Job Opening as necessary
Click Save
Publish or Unpublish a Job Opening
Navigate to the page
Click Edit
Select the Publishing tab

Complete the Publishing options



Published: Check or uncheck the box publish or unpublish respectively
Unpublish On: Manually select or enter a date and time to automatically unpublish the event

Publish On: Select a date and time to publish the event at a later date

Click Save
Delete a Job Opening
Important Note
Only Site Admins can perform this function. This action cannot be undone.
Instructions
Navigate to the desired page
Click edit below the Job Opening title
Click Delete
Click Delete to confirm the deletion

Note: This action cannot be undone
Basic Information Fields
Title: Enter the title of the Event
Microsite: Select the appropriate microsite

Summary: Enter a brief summary of the Event



Note

: This field is only available by clicking

Edit Summary



Body: Create the body of the Event page

Short Description: Enter a brief description to appear in search results both on the site and in other search engines such as Google


Job Information Fields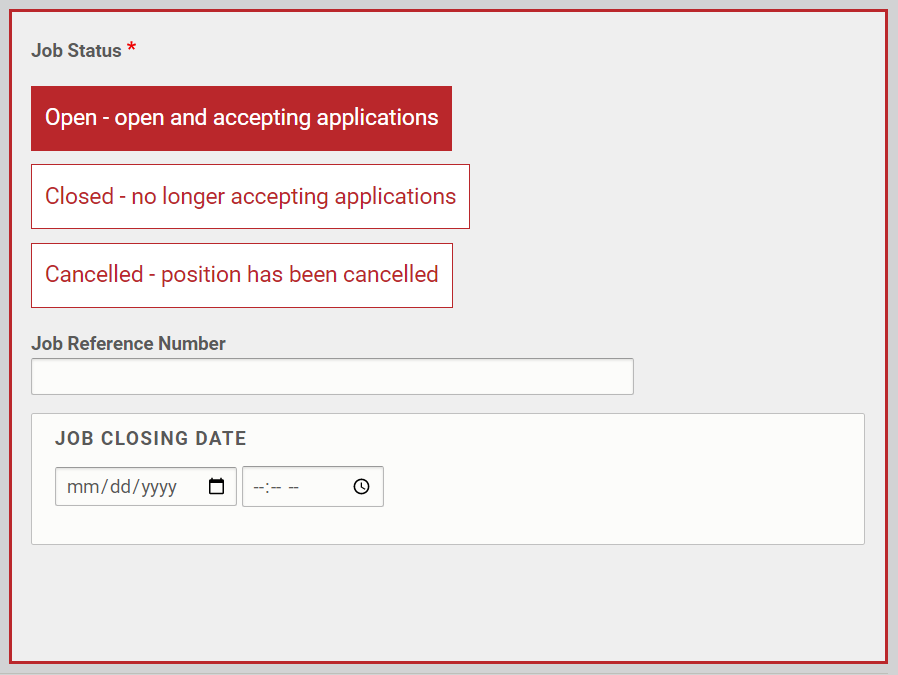 Job Status

Open:

The job

will display in the "Open" tab
Closed:

The job

will display in the "Closed" tab
Canceled:

The job

will not display in either tab

Job Reference Number:

Enter the reference number used to track job openings, or leave it blank

Job Closing Date: Select the date and time for this job opening to automatically switch to closed status.