Create an Event Page
Click Create Event


Enter a Title for the page

Select a Microsite


Complete the rest of the Basic Information fields as desired
Select the Event tab


Complete the Event options
Add additional content, if desired
Click Save
Add an Event to a Page
Navigate to the desired page
Click Edit
Select the More + tab


Check the Event box


Select the Event tab


Complete the Event Options
Click Save
Edit an Event
Navigate to the desired page
Click edit below the desired Event page
Edit the Basic Information, Event Options, or any other options as necessary
Publish or Unpublish the Event, as desired
Click Save
View an Event Page
Search for the desired Event page
Click the Title of the page

View the page
Copy an Event
Navigate to the desired page
Click Clone
Make any edits as necessary
Publish or Unpublish the page, as desired
Click Save
View Event Revisions
Navigate to the desired page
Click Revisions
View the list of previous revisions
Revert an Event Page
Select Revert to revert the Event page to a previous version

Select Revert to confirm the revision

Publish or Unpublish an Event
Navigate to the desired page
Click Edit
Select the Publishing tab

Complete the Publishing options



Published: Check or uncheck the box publish or unpublish respectively
Publish On: Select a date and time to publish the event at a later date

Note

: Click on the calendar or clock icon to select the date or time

Unpublish On: Select a date and time to automatically unpublish the event

Click Save
Delete an Event
Important Note: Only Site Admins can perform this function. This action cannot be undone.
Instructions
Navigate to the desired page
Click Delete
Click Delete to confirm the deletion

Note: This action cannot be undone
Basic Information Fields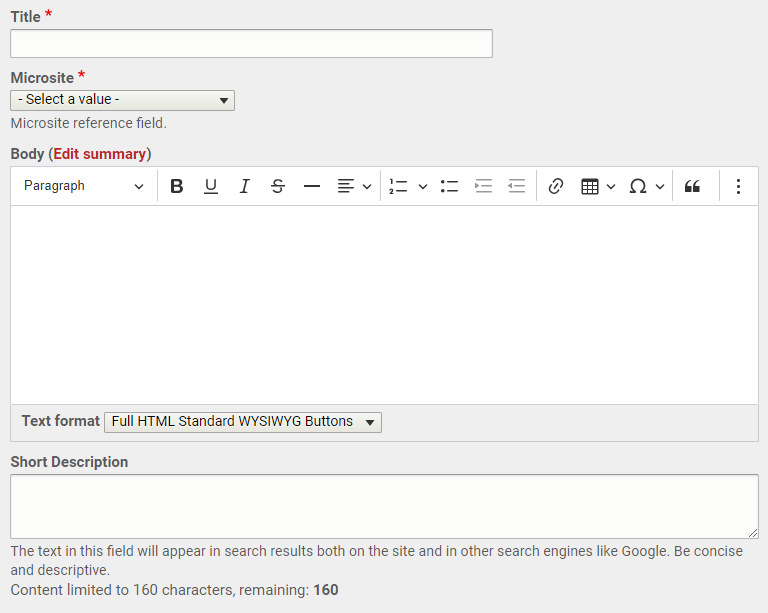 Title: The title of the page
Microsite: A microsite associated with the page

Summary: A short summary of the page


Note

: The Summary field will only appear after clicking

Edit Summary



Body: The main content of the page
Short Description:

The text in this field appears in search results both on the site and in other search engines, such as Google.
Event Options

Start: Select the start date and time

Note

: Click on the calendar or clock icon to select the date or time

End: Select the end date and time
All Day: Check this box for an all-day event
Duration: Use the dropdown menu to select a duration of time for the event
Repeats: Select an option to create a recurring event