Important Notes
Files have a maximum size of 128 Megabytes (MB).
Allowed files types are: .txt, .pdf, .doc, .docx, .xls, .xlsx, .ppt, .pptx, .jpg,
.jpeg, .gif, .png, .dwg, or .zipF.
Files may be added as Content before they are used on a page within CivicEngage Open, but it is not required. Files may also be added as Content when a page is created.
Files may be added, viewed, edited, published and unpublished, and deleted from the Manage Content menu.
Add a File via Manage Content
From the dashboard, click Manage Content


Select the Files tab

Click Add File


Complete the File fields
Click on the Publishing tab

Publish the file, or leave it unpublished to leave it in a draft state

Note: The file must be published in order to appear on a page

Click Save


Edit a File
Click edit


Edit some or all of the File fields as necessary
Select the Revisions tab

Type any changes made to the file or file information, if desired

Publish or Unpublish the File as desired
Click Save


Publish/Unpublish a File
Unpublishing a file keeps the full history of the page, which can be helpful for record retention purposes.
Instructions
Locate the file you wish to Publish or Unpublish and click edit


Select the Publishing tab



Note: To see unpublished items, the Published drop-down must be set to False

Check or uncheck the box to publish or unpublish the file respectively



Note: The file must be published to appear on a page

Select the Revisions tab

Type any information pertaining to publishing or unpublishing, if desired

Click Save


Delete a File
Only Site Admins have the ability to delete content. We discourage the deletion of content and instead advise that content be unpublished if it is no longer relevant. Please be advised that deletion is permanent. 
File Fields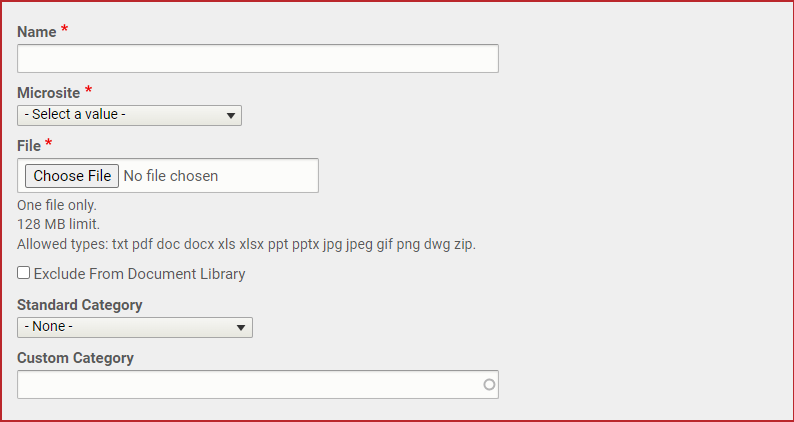 Name: Enter the name of the file
Microsite: Select the appropriate microsite 
File: The file being added
Remove: Remove the file shown
Choose File: Select the file to upload

Note: The Choose File button only appears if the previous file was removed

Exclude From Document Library: Check this box to exclude this file from the public Document Library
Standard Category: Select the category that the file is most closely related to
Custom Category: Type a name for a custom category if no Standard Categories fit the file